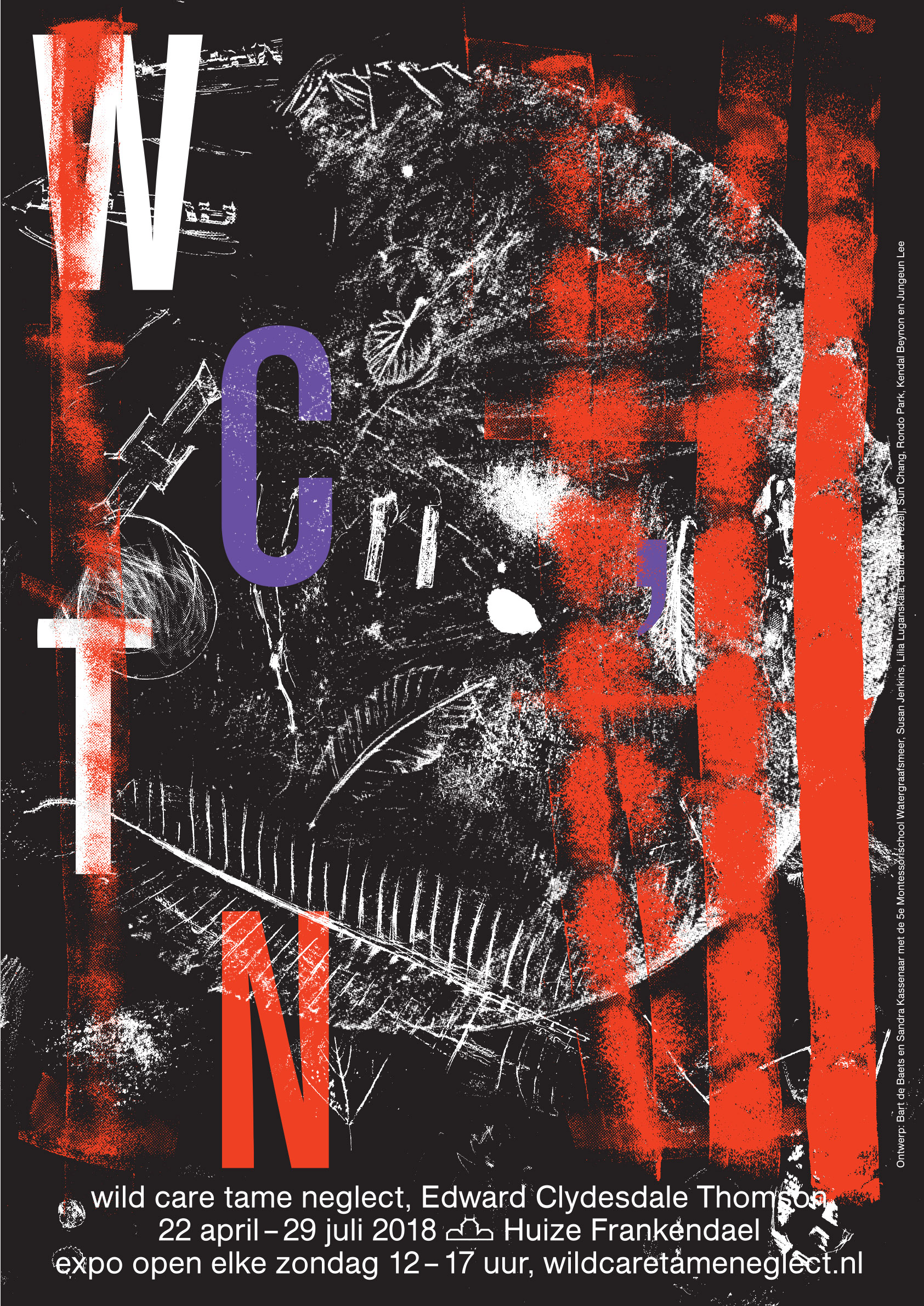 wild care, tame neglect: the exhibition

You are cordially invited to the festive opening of the exhibition wild care, tame neglect, April 22th 2018, 15:30 at Huize Frankendael. wild care, tame neglect is a unique collaboration of two years between artist Edward Clydesdale Thomson, curator Nils van Beek (TAAK) and the Frankendael Foundation.

Once in a while there is an artist who questions the foundations of their work to such an extent that those with whom they work are asked to do the same. In these moments the audience also takes its place as a participant in what normally happens behind the scenes of an organisation. And as a curator then, you not only think about creating the conditions to show art, but also you are suddenly complicit in the artistic process itself: long-term and with all its twists and turns. There is no comfort zone.

During the last two years, artist Edward Clydesdale Thomson has been wilfully reforming his practice within the context of Huize Frankendael, around what he considers to be a more sustainable model of art production. From the studio shed he constructed in the garden he created public artistic interventions. These sometimes consist of physical additions or modifications in the form of sculptures in the house and garden, but often also concern events and other encounters, for which he invites scientists and fellow artists. The public could follow the development of the project over the past two years both on site and on the extensive web archive www.wildcaretameneglect.nl.

The exhibition is not intended as an ultimate final presentation, but wants to see in what way the presentation of an art work flexes its' interpretation, addressing questions such as: what conditions transform something into an exhibition? Is it a limited duration, the exhibition design, the curatorial concept or publicity? And in what way the creation of each of these elements could be informed by the economy of labour set out in the establishment of wild care, tame neglect? Furthermore, can an artist relate to their work as a gardener does to their garden: as a living thing, changeable, requiring constant care. What possible agency and space do (tamed) nature and culture occupy within this former country estate surrounded by the busy city, a site that now actively serves as a restaurant and reception location. Is it possible for art in such a location to escape an ever-present aesthetic harmony? What role and whose desires does an artist fulfil in a scenario where they act as host, gardener, programmer and hermit?

The exhibition gathers works by Thomson as well as of literary theorist Frans-Willem Korsten and artists Jason Coburn, Nikola Lamburov and Ine Lamers. Designers Sandra Kassenaar and Bart de Baets developed a poster campaign during a public workshop programme with de 5e Montessorischool Watergraafsmeer, colleagues and visitors. The exhibition design by EventArchitectuur cleverly reframes the garden of Huize Frankendael itself as an architectural structure for the showing of art.
wild care, tame neglect will run between 22 April-29 July 2018

The exhibition can be visited every Sunday between 12:00 and 17:00 or by appointment (tel. 0615497128 (Edward Clydesdale Thomson , or email to Suzanne Sanders: 

suzanne@huizefrankendael.nl). This exhibition is part of the manifestation Public Art Amsterdam.