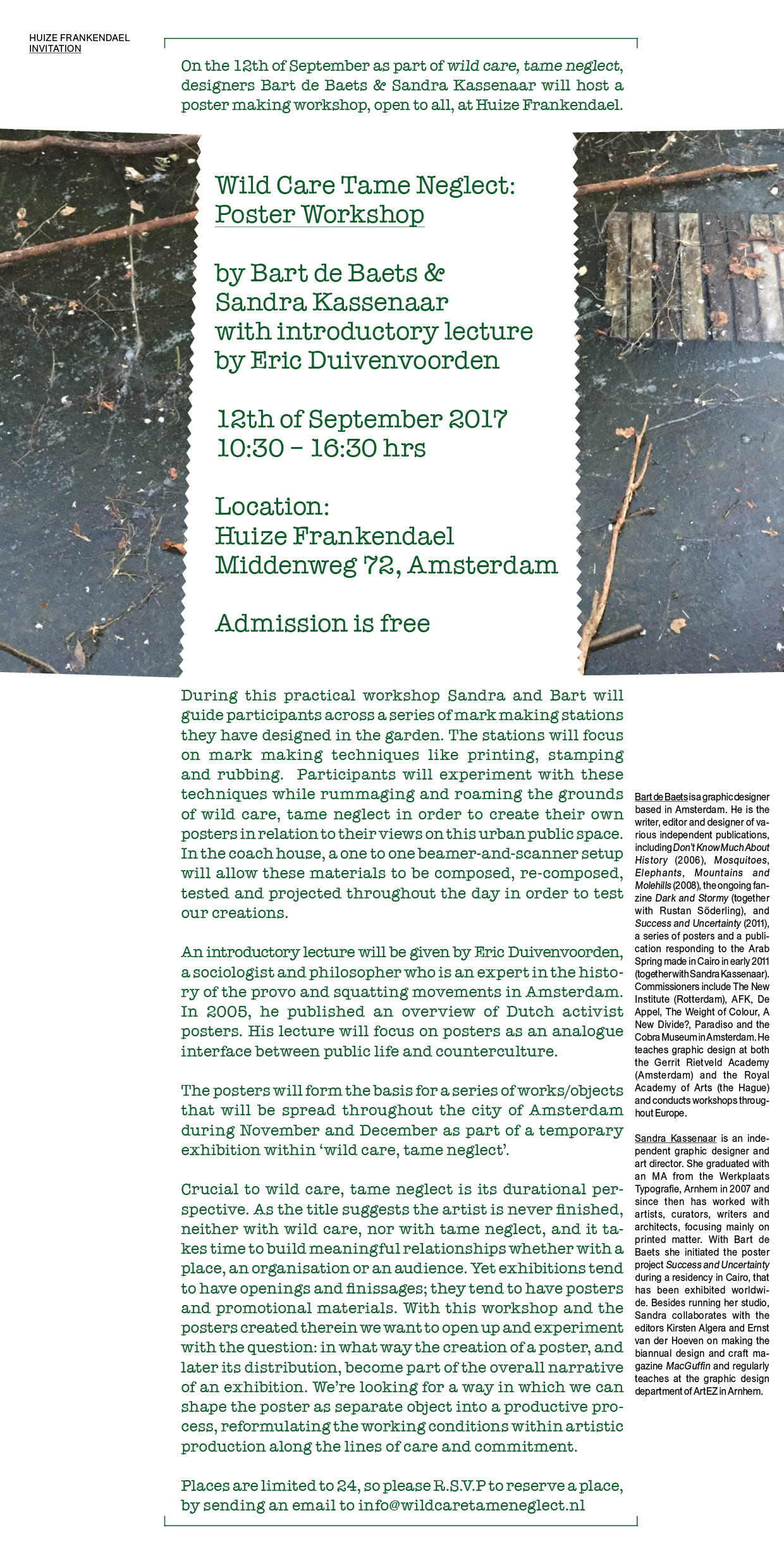 11th & 12th of September 2017
Location: Huize Frankendael
Middenweg 72, Amsterdam
On the 12th of September, as part of ' wild care, tame neglect', designers Bart de Baets & Sandra Kassenaar will host a poster making workshop, open to all, at Huize Frankendael.
During this practical workshop Sandra and Bart will guide participants across a series of mark making stations they have designed in the garden. The stations will focus on mark making techniques like printing, stamping and rubbing. Participants will experiment with these techniques while rummaging and roaming the grounds of wild care, tame neglect in order to create their own posters in relation to their views on this urban public space. In the coach house, a one to one beamer-and-scanner setup will allow these materials to be composed, re-composed, tested and projected throughout the day in order to test our creations.
The posters will form the basis for a series of works/objects that will be spread throughout the city of Amsterdam during November and December as part of a temporary exhibition within 'wild care, tame neglect'.
Crucial to wild care, tame neglect is its durational perspective. As the title suggests the artist is never finished, neither with wild care, nor with tame neglect, and it takes time to build meaningful relationships whether with a place, an organisation or an audience. Yet exhibitions tend to have openings and finissages; they tend to have posters and promotional materials. With this workshop and the posters created therein we want to open up and experiment with the question: in what way the creation of a poster, and later its distribution, become part of the overall narrative of an exhibition. We're looking for a way in which we can shape the poster as separate object into a productive process, reformulating the working conditions within artistic production along the lines of care and commitment.
Places are limited to 24, so please R.S.V.P to reserve a place, by sending an email to info@wildcaretameneglect.nl